FALLS CREEK RESORT MANAGEMENT
---
The day-to-day running of Falls Creek is undertaken by Falls Creek Resort Management. Resort Management's role includes elements beyond those normally expected of a local government or government agency in that it is expected to promote, manage, use, and develop the Falls Creek resort. This includes representing the owner (the government on behalf of Victorians) and commercially managing the head lease on public land. Falls Creek Resort Management reports to the Board of Falls Creek Alpine Resort Management appointed by the Minister for Energy, Environment and Climate Change.
ORGANISATIONAL CHART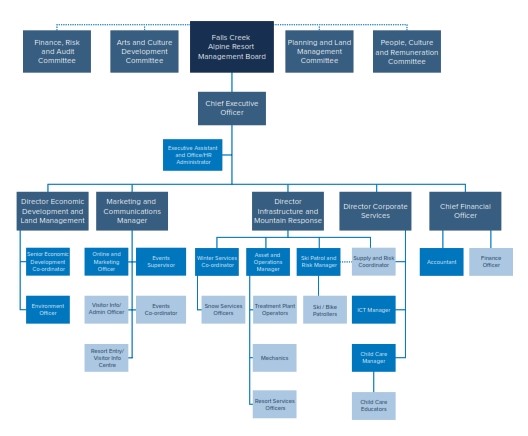 VISION STATEMENT
A vibrant and distinctive village offering Australia's most memorable alpine experiences.
OUR MISSION
The mission for all Resort Management staff is to see Falls Creek recognised as being "an unparalleled, unique and world class all seasons alpine resort, renowned for being Australia's premier leisure, lifestyle and adventure destination."
GUIDING PRINCIPLES
To achieve this Mission, our guiding principles, formulated through collaboration across the workforce, and embedded into all facets of the organisation, are:
Exceed Expectations: By using integrity, applying commitment and engaging with our users, the community and our staff, we will endeavour to excel.
Create Fun, Adventure and Lifelong Memories: By inspiring people to embrace an active outdoor lifestyle.
Enacting Stewardship: Is about being accountable to our stakeholders, acting as custodians for our environment and planning for its sustainability, we are then able to facilitate and build prosperity for the local and regional community.
Dedicated and Passionate: We live, breathe, use and thoroughly appreciate the responsibility entrusted of us in managing the unique assets of the resort and surrounding high plains.
Strive for Value: Through ensuring operational efficiencies are optimised, infrastructure and services can be delivered that will enhance any activity, ultimately offering exceptional value and an outstanding mountain resort experience to all users.